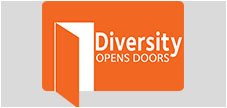 We use our Diversity symbol to encourage a work environment of inclusion and acceptance. We take pride in the uniqueness of our employees and their ideas and perspectives.
To learn more about diversity at Chapman, please see our community brochure: Diversity Matters.

Diversity Partners:
Walt Draney
Carol Thompson
Diversity & Inclusion
Print PDF
At Chapman and Cutler, we believe fostering a diverse and inclusive environment increases our creativity, heightens the quality of our thinking, and enables us to provide valued counsel on the complex and sophisticated issues facing our clients. To that end, we support a wide range of initiatives, including:
Chicago Scholars
Chapman is a High-5 corporate sponsor of Chicago Scholars, a program that helps disadvantaged high school students attain collegiate access and success. The program guides students through college application, graduation, and transition into a chosen career or graduate study.
Lambda Legal
In addition to the firm's Corporate Equality Index recognition, Chapman continues to be a supporter of Lambda Legal, which advocates on behalf of the lesbian, gay, bisexual, and transgender communities throughout the US.
Coalition of Women's Initiatives in Law Firms
Chapman is involved in a number of initiatives to advance opportunities for women in the workplace, including law firms.
Recognition
Chapman continues to receive recognition for our diversity efforts and accomplishments:
Best Law Firm for Women —

Working Mother Media

and Flex-Time Lawyers has named Chapman a Best Law Firm for Women since the ranking was created in 2007.

Best Law Firm for LGBT Attorneys/Staff — The Human Rights Campaign ranks Chapman as one of the best places to work in terms of benefits and protections for LGBT attorneys and staff. We have received a 100% score on the Corporate Equality Index annually since 2008. Additionally,

The American Lawyer

has ranked Chapman as one of 22 law firms with the highest percentage of self-reported LGBT attorneys among the Am Law 200.

Recognized by Equality Illinois for "Raising the Bar" and leading the way in providing a safe and fair work environment for lesbian, gay, bisexual, and transgender employees and engaging with the LGBT community.

Top 100 Law Firm for Diversity

Multicultural Law

magazine.

Women in Leadership — The Chicago Bar Association recognized Chapman in its "Call to Action on Women in Leadership in Chicago Law Firms."
Affinity Groups
Chapman Affinity Groups are designed to provide mentoring and support for our diverse attorney population. The Affinity Groups focus on issues pertaining to professional mentoring, business development, leadership opportunities and challenges, career advancement, personal marketing, and other topics; share social/networking opportunities; and address challenges that relate specifically to the circumstances of each individual. We have three groups: our Ethnically Diverse Affinity Group, our LGBT Affinity Group, and our Women's Affinity Group.
Women @ Chapman
Our Women's Affinity Group is active in advancing the visibility and business development goals of women attorneys at Chapman. Included below are a few of the accomplishments of our women attorneys:
Recognition
Nancy Burke, elected a Fellow of the American College of Bond Counsel (2013)
Andrea Bacon, elected a Fellow of the American College of Bond Counsel (2012)
Jill Matichak: Lawyer of the Year, San Francisco Banking and Finance Law, Best Lawyers (2012); Ranked in Chambers USA, California (2009-2012) and National (2012); California Super Lawyers, Banking( 2006-2011)
Recent Publications
Laura Appleby:
Co-Author, "Strategies and Limitations of Sponsor Buybacks," American Bankruptcy Institute Journal. January 2014.
Melanie Gnazzo:
Co-Author, "Financing Distributed Generation Through Third-Party Ownership," Chapman Insights. November 21, 2013.
Cari Grieb:
Co-Author, Sports and the Law. Oxford: Oxford University Press (forthcoming).
Interview, "College Conference Shuffle Hits the Courts," Chicago Daily Law Bulletin. March 26, 2013.
Heather Hansche
Co-Author, "Making a Virtual Bank ADA Compliant," The Banking Law Journal. February 2014.
Co-Author, "Social Media Guide for Financial Institutions," Chapman and Cutler LLP. May 2014.
Simone Tatsch
Co-Author, "Recent Challenges to Credit Bidding—A New Trend?" Client Alert. May 13, 2014.
Recent Presentations
Cynthia Baker:
Panel Moderator, "Is Clean Legal Opinion the 8th Wonder of the World?" American College of Investment Counsel Annual Meeting. October 10, 2014.
Erin Bartholomy:
Speaker, Illinois Community Colleges Chief Financial Officers Spring Conference. April 17, 2013.
Sarah Breitmeyer:
Speaker, Q1 Municipal Market Outlook, Women in Public Finance Conference. March 5, 2013.
Nancy Burke:
Panelist, "Avoiding Woes of Tax-Exempt Bond Issues," Tax-Exempt Bond Compliance Workshop. September 16-18, 2014.
Preetha Gist:
Panelist, "Dodd-Frank Swap Dealer Regulation," FMA Securities and Compliance Seminar. April 24, 2013.
Lynda Given
Speaker, "City of Detroit, West Clark Community Schools and Their Impact on Illinois Park District Bonds," Illinois Association of Park Districts Legal Symposium. November 7, 2013.
Melanie Gnazzo:
Panelist, "Solar Securitization: Opportunities and Challenges," SunShot Grand Challenge Summit. May 21, 2014.
Panelist, "Track A Commercial Solar Lease Securitization Overview: Middle Market C&I Challenges and Solutions," SunShine Backed Bonds conference. May 2, 2014.
Panelist, "Renewables 101: Understanding the Residential and Commercial Solar Market," IMN ABS East Conference. October 6, 2013.
Speaker, Current Developments in Mortgage Finance and the Related Tax Implications, American Bar Association Tax Section Financial Committee. September 20, 2013.
Cari Grieb:
Panelist, "Amateurism and Collegiate Athletes," University of Florida Levin College of Law's Annual Sports Law Symposium. April 4, 2014.
Panelist, "Issues Arising in the Representation of Professional Athletes," DePaul Journal of Sports Law and Contemporary Problems Symposium. March 7, 2014.
Panelist, "Morality Clauses and Ethical Issues in Sports Contracting," Fordham Law School's Annual Sports Law Symposium. April 19, 2013.
Panelist, "Hurdles: Legal Issues a Modern Athlete Must Overcome," DePaul Law School's Sports Law Symposium. March 8, 2013.
Lecturer, NHL Lockout, Northwestern University School of Continuing Education. February 6, 2013.
Juliet Huang:
Panelist, Differences between State and Local Government Leasing and Commercial Leasing, ELFA Legal Forum. May 6, 2013.
Kristin Parker:
Panelist, Chicago Banker's Environmental Roundtable. April 9, 2014.
Anjali Vij
Speaker, "Issuing School Bonds in a Heightened Regulatory Environment," Illinois Association of School Business Officials Annual Conference. May 16, 2013.
Community and Industry Involvement
American Bar Association: Forum Committee on Entertainment and Sports Industries (Cari Grieb), Taxation Section, Financial Transactions Committee (Melanie Gnazzo)
American Cancer Society: Planned Giving Committee, Illinois Division (Rebecca Wallenfelsz)
American College of Investment Counsel: Board of Trustees (Amy Olshansky, Stacy Pike)
American Securitization Forum (Melanie Gnazzo)
Association for Governmental Leasing and Finance (Juliet Huang)
Association House of Chicago: Board of Directors (Jennifer Tedjeske)
Chicago Bar Association: Executive Committee (Rebecca Wallenfelsz), Federal Taxation Committee, Vice-Chair (Kelley Bender), Trust Law Committee (Marla Cohen, Rebecca Wallenfelsz)
Chicago Coalition of Women's Initiatives in Law: Associate Board (Sharone Levy)
Chicago Infant Welfare Society: Treasurer, Board of Directors (Lynda Given)
Conservation Foundation: Advisory Board Member (Lynda Given)
Duke University School of Law: Chicago Alumni Committee (Cari Grieb)
Equipment Leasing and Finance Association: Legal Committee (Melanie Gnazzo)
Holy Trinity Lutheran Church of Chicago: Council Member (Kelley Bender)
Illinois Institute for Local Government Law: Professional Development Committee (Julie Kelly)
Jewish Federation of Metropolitan Chicago: The Hillels of Illinois Commission (Marla Cohen)
John Marshall School of Law: Adjunct Professor of Sports Law (Cari Grieb)
Miami University: Prelaw Advisory Board (Lynda Given)
National Association of Bond Lawyers (Erin Bartholomy, Sarah Breitmeyer, Jane Nagle, Shelly Scinto), Committee on Defined Benefit Pension Plans Disclosure (Andrea Bacon)
National Association of Real Estate Investment Trusts (Melanie Gnazzo)
Notre Dame Club of Chicago: Past President and Board Member (Nancy Burke)
Notre Dame Club Scholarship Foundation: Board Member (Nancy Burke)
Rehabilitation Institute of Chicago: Women's Board Member (Nancy Burke)
Service Club of Chicago (Andrea Bacon)
Sports Lawyers Association (Cari Grieb)
Women in Public Finance: Board of Directors (Erin Bartholomy, Carol Thompson), Associate Board (Sharone Levy)
Women in Sports and Events (Cynthia Baker)
Supplier Diversity
Chapman is committed to ensuring diversity at all levels of involvement with the firm. Every day, we rely on strategic partnerships to provide the resources and tools we use to manage our practice and deliver the service we provide clients. We believe that utilizing a diverse array of vendors and suppliers, allows us to promote inclusion, and better serve our diverse and unique personnel and clients. To learn more about becoming a Chapman vendor, please click here.