Chapman and Cutler LLP Maynard H. Jackson Jr. Diversity Scholarship
As part of our commitment to diversity, we are pleased to offer the Chapman and Cutler LLP Maynard H. Jackson Jr. Diversity Scholarship. Click here for more information on the scholarship, and click here to learn about first scholarship recipient.
---
MetLife Diversity Award
MetLife has recognized Chapman twice for our inclusivity efforts spanning affinity group activities, mentoring and sponsorship opportunities, training and pipeline programs, and supplier diversity initiatives. Click here to learn more.
---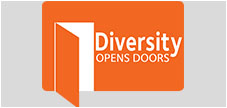 We use our Diversity symbol to encourage a work environment of inclusion and acceptance. We take pride in the uniqueness of our employees and their ideas and perspectives.
---
To learn more about diversity at Chapman, please see our community brochure: Diversity Matters.
---
Diversity Partners:
Walt Draney
Juliet Huang
Diversity & Inclusion
Print Page

At Chapman, supporting a diverse workforce is about more than good corporate citizenship; we believe that different perspectives mean better, more effective solutions for our clients.
Our diversity and inclusion efforts create the foundation for a Chapman community that supports equal opportunities for individuals of different races, ethnicities, religions, sexes, ages, sexual orientations, gender identities or expressions, and abilities.
Affinity Groups
Chapman's Affinity Groups provide focused mentoring and support for our diverse attorney population. The Affinity Groups offer opportunities to Chapman attorneys through business development guidance and leadership training, networking events, mentoring, and career advancement. Each of our groups — the Ethnically Diverse, LGBTQ, Women's, Working Parents, Attorneys with Disabilities and their Allies, and Jewish Attorneys affinity groups — addresses the unique challenges that relate to the circumstances of the demographic of the group.
Ethnically Diverse @ Chapman
Chapman strives for an inclusive environment that enables our ethnically diverse attorneys to thrive. The firm's Ethnically Diverse Affinity Group brings together attorneys who benefit from or are supportive of the group's mission of supporting mentoring, networking, and career development opportunities that promote the interests of our ethnically diverse attorneys. Excellence is not bound by color, gender, or sexual orientation, but rather is cultivated through the talents and unique perspectives of each individual employee.
Partners Walt Draney, of the Corporate and Securities Department, and Juliet Huang, of the Banking and Financial Services Department, serve as co-chairs of the Ethnically Diverse Affinity Group.
LGBTQ @ Chapman
One of Chapman's core diversity values is to cultivate and maintain a diverse workforce, but our commitment transcends just the hiring process. Openly gay attorneys participate in the firm at the highest levels of management, serving as our Chief Operating Partner and as management committee members and in other visible leadership roles.
Cultivating an inclusive workplace has been a part of the firm's rich history. In 1998 Chapman received a special commendation from Chicago's Mayor Richard M. Daley and the predecessor to Equality Illinois as one of the first 14 of the major law firms in Chicago to provide insurance benefits to same-sex couples. Since that time, Chapman has examined other workplace policies, such as those relating to adoption, to make sure that comparable benefits are available to all of its families.
Chapman's LGBTQ Affinity Group offers LGBTQ attorneys an excellent opportunity to regularly share experiences, mentor younger attorneys, and participate in strategic discussions of ways to increase our legal business and client contacts through individual networks of friends, families, and business associates. This vibrant group spearheads the firm's support of and relationships with many LGBTQ organizations, including Equality Illinois, the National LGBT Bar Association, and Lambda Legal. Bill Libit, the firm's Chief Operating Partner, serves on the National Leadership Council of Lambda Legal and LGBTQ attorneys are active in mentoring law students from local OutLaw groups.
Chapman's commitment to its LGBTQ attorneys has been recognized by a number of outside organizations:
Women @ Chapman
Chapman continuously strengthens and develops a variety of initiatives tailored to support the careers of its women attorneys. The Women's Affinity Group hosts networking events, business development training, and mentoring sessions to help prepare women attorneys for leadership roles.
Chapman's commitment to women attorneys is highlighted by its nine appearances on the 50 Best Law Firms for Women list, published by Working Mother. The award acknowledges law firms that display a commitment to providing career and business development initiatives that help retain and advance women attorneys.
Additionally, Chapman's women attorneys routinely contribute to women's and industry groups, including by serving in leadership roles. Chapman is an active sponsor of women's and industry groups such as:
Partners Kim Ahlgrim, of the Asset Securitization Department, and Rebecca Wallenfesz, of the Trusts and Estates Department, serve as co-chairs of the Women's Affinity Group.
Supplier Diversity
Chapman is committed not only to diversity at all levels within the firm, but also to ensuring that we do our part to foster diversity in our purchasing practices. As a national law firm, we have purchasing power to make a difference that spreads beyond the walls of our office buildings. Every day, we rely on strategic partnerships to provide the resources and tools we use to manage our practice and deliver the service we provide clients. We believe that utilizing a diverse array of vendors and suppliers allows us to promote inclusion and better serve our diverse and unique clients and personnel.
To this end, we prioritize purchasing supplies and services from vendors that are women, ethnically diverse, and LGBTQ-owned. We are dedicated to promoting diversity across the spectrum of our professional relationships.