Practice Green
Print Page
Chapman and Cutler is committed to environmental sustainability and champions everyday environmental efforts, including lighting and energy conservation, recycling, water use reduction, and green purchasing. For over 15 years, the firm has undertaken remodeling and retrofitting projects to ensure that our office spaces are eco-friendly and align with Leadership in Energy and Environmental Design (LEED) standards. We are also a proud member of the Law Firm Sustainability Network—a non-profit organization of law firms and legal departments dedicated to environmental sustainability and corporate social responsibility.
Recognition
Chapman continues to receive recognition for our sustainability efforts and accomplishments:
Environmental Protection Agency (EPA) Green Power Partnership: Chapman is a member of the EPA Green Power Partnership. This program recognizes organizations across the United States as leaders committed to green power. We have been recognized as a 100% Green Power Purchaser each year since 2011.
City of Chicago Green Office Challenge: The Green Office Challenge is an impact-driven program in the city of Chicago that encourages friendly competition among commercial offices and individuals to adopt sustainable practices at work and at home. Approximately 150 businesses and 1,000 individuals participate in the Challenge by setting and achieving goals over the course of a year. Participants are evaluated on the "Green Office Scorecard," which assesses 50 different strategies under five office-related categories: waste and recycling; energy; transportation; outreach and education; and property manager engagement. Chapman was named a "Tier 1 Tenant" in 2012.

Energy Star Low Carbon IT Campaign: The Energy Star Low Carbon IT Campaign is a government-sponsored, nationwide program to assist organizations in reducing energy consumption by their IT equipment. Chapman was recognized by Energy Star for its sustainable IT efforts in May 2011.
American Bar Association (ABA)/Environmental Protection Agency (EPA) Law Office Climate Challenge: The ABA/EPA Law Office Climate Challenge encourages law firms to take practical steps in becoming better stewards of our environmental and energy resources. The challenge focuses on responsible paper management, use of renewable energy, and energy management. Chapman was recognized as a Law Office Climate Challenge Partner and WasteWise Partner in 2010.

Hines Green Office® Tenant Program: Launched on Earth Day in 2009, the Hines Green Office® Tenant Program encourages tenants to identify and implement little-to-no-cost green alternatives to standard operations in an office environment. Tenants are evaluated in seven categories: energy efficiency; people and atmosphere; travel and commuting; reduce, reuse, and recycle; cleaning; remodeling and construction; and LEED. Chapman was awarded the Green Office® Achievement Award in September 2009.
Office Initiatives
Chapman has enacted various in-house programs that assist our offices in reducing waste and reusing materials and supplies whenever we can.
Duplex Printing and Paper Reduction: Chapman has completed a firmwide initiative to improve duplex printing capabilities, and we have implemented additional strategies for reducing the use of paper. Double-sided printing is tracked firmwide and recognition is given to the top duplexers each year. Several attorneys and staff have far surpassed our initial goal and print between 75-88% of all their jobs double-sided. All of our printers default to duplex printing, and the plain paper we use consists of 30% post-consumer recycled content. Chapman letterhead paper is certified by the Forest Stewardship Council (FSC). The FSC certification process provides an assurance that the stock used has been harvested in a socially and environmentally responsible manner and is tracked from the certified initial source through the manufacturing process.
Screen Savers: Rather than using computer screen savers (which use as much energy as full power), we encourage our attorneys and staff to use computer "sleep" functions.
Coffee Grounds and Composting: Chapman has initiated the "Grounds for Gardeners" program, which allows employees with a green thumb to take coffee grounds home from the office to help their gardens grow. The firm also participates in a composting program.
Recycle: As part of our continued commitment to lessening our environmental impact, the firm offers several recycling programs. In addition to recycling paper, plastic, aluminum, and glass, we make it easy to dispose of batteries, cell phones, and writing utensils by providing bins conveniently located throughout all offices.
Reuse: Rather than purchasing disposable products, we seek out and invest in reusable and renewable office resources and supplies, including the use of rechargeable batteries in all electronic devices.
Energy Initiatives
Chapman continues to participate in carbon-neutral programs that assist in reducing or offsetting our footprint.
Green Power Purchasing and Energy Credits: Chapman has purchased wind-powered EarthEra® RECs (renewable energy certificates) from EarthEra Renewable Trust to offset the firm's annual energy consumption across all offices by 1.8 million kilowatt-hours (kWh) of electricity—enough wind power to generate electricity for nearly 115 households! Top wind and solar energy producer NextEra Energy Resources registered this energy as exclusive to Chapman to generate power at the company's Elk City II facility in Elk City, Oklahoma.
Energy Star: Chapman uses Energy Star Qualified office equipment and appliances, utilizing 30–75 percent less electricity than standard equipment. Since implementing energy-saving initiatives about seven years ago, the firm has reduced energy and electricity costs by approximately 20 percent.
Office Lighting: All incandescent bulbs and overhead fluorescent lighting throughout our offices have been replaced with energy efficient bulbs. Occupancy sensors were installed in private offices and large service areas, with estimated reductions in lighting "on time" ranging from 25–45 percent.
Employee Participation
Chapman hosts a number of events and encourages employee participation in sustainable and wellness initiatives, including:
Bike Commuter Challenge: Each Chapman office participates in annual bike challenges, which provides incentives for firm employees riding their bicycles to work. We ensure all Chapman employees can partake by offering free 24-hour passes to various bike shares.
City Farm: City Farm promotes urban agriculture on available City land, creates compost from food waste and other by-products of the urban environment, and sells organically produced vegetables at farm stands, farmers markets, and area restaurants. Chapman attorneys, staff, and summer associates have volunteered at City Farm.
Greenheart Fair Trade Holiday Bazaar: At the end of each calendar year, Chapman hosts Greenheart Fair Trade Holiday Bazaar, sponsored by Greenheart Shop, a non-profit shop featuring fair trade and eco-friendly products from artisans around the world. Firm employees have the opportunity to purchase jewelry, handbags, kitchen goods, home décor, toys, and more.
Chapman's ReUse Market: Over the years, the firm has gathered artwork and furniture that it no longer uses on a regular basis. In 2014, Chapman held its first ReUse Market as part of a continued effort to reduce, reuse, and recycle. Over 40 attorneys and staff submitted close to 200 bids for the 78 pieces of art and furniture. The proceeds from the auction were donated to City Farm and the Resource Center, a non-profit environmental education organization founded by Ken Dunn over 35 years ago.
Shedd Aquarium Adopt-a-Beach: Through a partnership between Shedd Aquarium and the Alliance for the Great Lakes, the firm's employees have an opportunity to volunteer to clean up waste items from beaches throughout the city of Chicago and help maintain the health and beauty of the Great Lakes.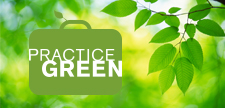 Our Practice Green emblem is our way of promoting the work we do to champion environmental sustainability practices within and outside the firm.
Sustainability Partner:
Dave Schrodt