Charles Calloway, an associate in our Corporate Finance Department, is a long-time mentor, advocate, and Chicago chapter board member for Spark Program, Inc. Spark is a national nonprofit organization that connects middle school kids to professionals for career mentorship. Charles was recently appointed to the National Board, so we sat down with him to talk about his work, Chapman's involvement, and his hopes for the future of the organization.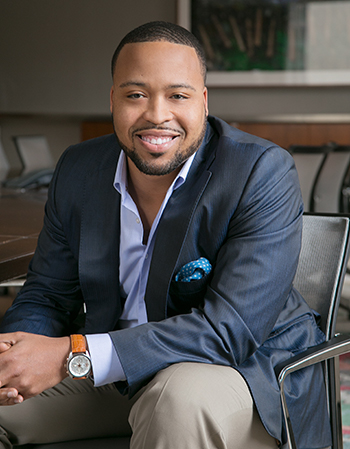 Charles Calloway, associate in Chapman's Corporate Finance Department
What made you want to become a lawyer?
A lot of people expect lawyers to have a single "aha" moment when they knew they wanted to be an attorney, but that is not what happened with me. I was raised by parents who both encouraged me to think analytically. They would listen to my arguments or train of thought, no matter how silly it might have been, and they fostered an environment that encouraged healthy debate. However, my initial exposure to attorneys came from working in my mother's office in North Carolina. As an accountant in the heart of the Research Triangle Park, my mother had a pretty diverse clientele base that grew over time. As one of her interns, over time I was privileged to meet so many types of professionals—from doctors to lawyers to all different types of entrepreneurs. I think that's when I really decided I wanted to be a lawyer. I didn't know what type of lawyer, but the idea of practicing law appealed to me.
What made you start volunteering with Spark?
When I lived San Francisco the summer of 2008, a friend who was mentoring with Spark told me about the program, said they were looking for volunteers who were professionals to provide apprenticeship-based mentorships, and asked me to get involved. So I did. I've always felt a draw to give back to my own community, especially for kids in underserved areas. Mentorship was such a big part of my life growing up—through my mother's business I was able to meet people with all kinds of jobs, which gave me insight into an array of available career choices, and my dad was a financial advisor and would regularly take me on his pitches and client meetings. When I look back on those days, they were really formative for me. It really gave me an insight into a world that I didn't know existed. So the organization Spark really felt like a natural fit for me: bringing students into the workplace and giving them a first-hand experience like mine.
Why do you think it's important for kids to meet lawyers?
I believe that a child's dreams of what they can be are inherently limited unless you increase their knowledge of the possibilities. A lot of kids don't have examples in their lives of the full breadth of career options, so I think it is really important to introduce kids to a wide variety of professions early on in their development. It gives them a different perspective of what they could be. It allows them to see themselves in someone else's shoes. Introducing kids to lawyers doesn't necessarily mean that they will want to become lawyers, but it gives them an introduction to the professional world. They might like aspects of the job—such as the salary or office life or any number of perks they pick up on—and so even if they don't want to become attorneys, they might leave thinking of all the things they do want. I think meeting professionals helps kids develop preferences for what they want out of a career. It helps them broaden their dreams.
What is Chapman's role in Spark?
Chapman's work with Spark over the past eight years has evolved: we started off as individual mentors and financial supporters, but now we do so much more. We actively participate, structure, and advise on the programming that is conducted throughout Chicago. Chapman also provides a number of volunteers for mentorship workshops for students centered around career exploration. And we partner with our clients and encourage them to get involved, which is not only great for Spark, but also for developing deeper, more meaningful relationships with our clients. We recently signed a multi-year partnership with Spark to continue funding their work, and we look forward to supporting their important work in the city of Chicago.
What do you hope for the future of Spark?
Now that I am on the National Board, I expect to focus more on growing the organization on a national basis, as well as making sure that our Chicago branch continues to thrive. We have over 300 mentorships here in Chicago, but I would like that number to increase. To do that, we need to increase the number of companies that mentor. Additionally, having oversight over how and where the organization spends its resources will help establish a more solid foundation for the long haul and guarantee that the organization can continue its mission into the future.
Related People